P U B L I C I T Y / R E V I E W s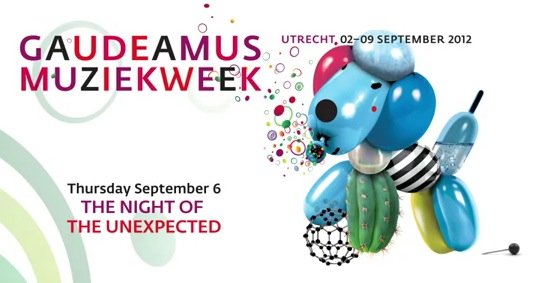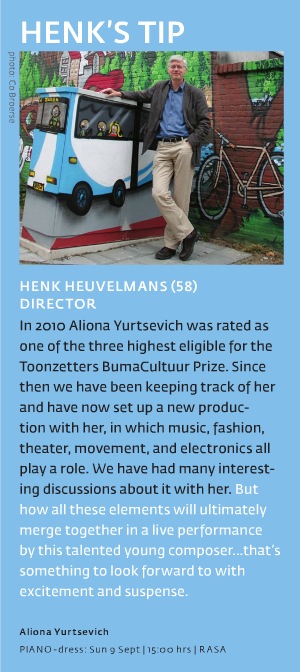 PIANO-Dress / for acting pianist Tomoko Honda /
@ Gaudeamus Music Week 2012, Utrecht,NL /


Video pilot:
http://www.youtube.com/watch?v=AVZjeZfFqaE
@ Gaudeamus-brochure: read/
@ Gaudeamus(RASA): read/

Aliona Yurtsevich is originally from Belarus but has studied composition in various places,
among others in Hilversum (at the department of Music Technology). A truly unique presence
in the Dutch composition landscape. Her works are based on a conceptual approach -- similar
to, for example, Rebecca Saunders. She uses (live) electronics in virtually all of her
pieces, while treading a fine line between performance and composition. Gaudeamus Muziekweek
2012 saw the premiere of her most recent work PIANO-dress, for acting pianist and surround
live electronics. Yurtsevich and pianist Tomoko Honda explore the relations between performer
and instrument as go beyond the standard expectations in classical performance practice.


Aliona Yurtsevich - COMPOSER's PORTRAIT / 2012
produced by Gaudeamus Composer's Series


@ Gaudeamus: read more/
The Garden of Earthly Delights / for acting accordionist Luka Juhart
/ 2011
TRANSIT'11 festival
/ Leuven,BE
http://www.festivalvlaamsbrabant.be/en/concerten/raskin-ernst-surberg-luka-juhart
review: /1 program/2


NOVEMBER MUSIC'11 festival / Den Bosch, NL http://www.novembermusic.net/?pageId=159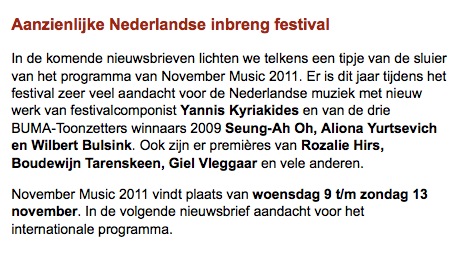 program:

/
TREE/study-III, for flute and live electronics /2007/
Signale Live-Electronics Workshop with Gerhard Eckel and Peter Plessas at IEM Graz,
IMPULS'11 International Composers Academy
/
Feb.14, 2011 @ MUMUTH / Graz, Austria
/
read more ________________________________ /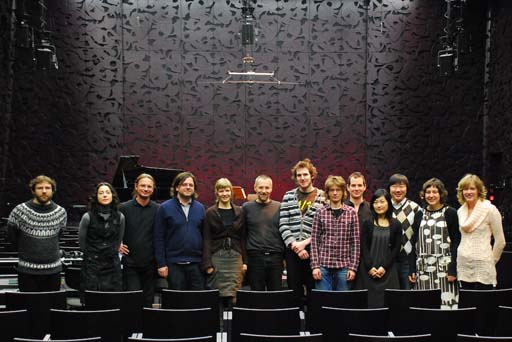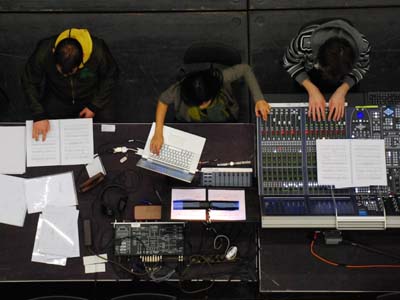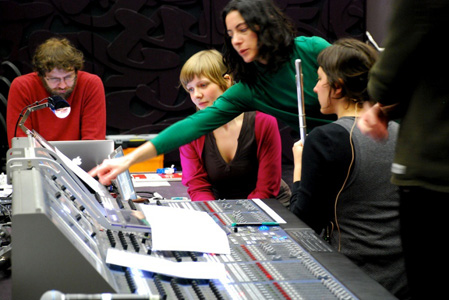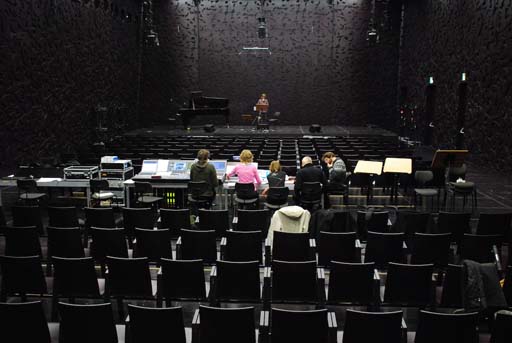 Signale'11 photo gallery:

http://plessas.mur.at/impulsLE/index.html
(c) 2011 Gerhard Eckel, Peter Plessas. All rights reserved.
VIAGGIO INTERIORE [Awakening of Alice] / 2009

finalist of BUMA Toonzetters Price'2010 / Aug.29 2010, Muziekgebouw ann 't IJ, Amsterdam, NL
/



read more _______________________________ /



Het PAROOL

(Aug.30, 2010) (review of TOONZETTERS PRIJS'2010 concert)




Evenement Toonzetters

(Dutch)


"Aliona Yurtsevich's VIAGGIO INTERIORE kon mij het meest bekoren. Het is een op "Alice in Wonderland" geinspereerde voorstelling voor sopraan,
slagwerk, harp, twee fluiten en tape. De kracht van het stuk zit hem niet echt in de noten, maar in de trefzekerheid waarmee Yurtsevich een stuk
je muziektheater produceerde dat naar Kagel en Berio verwijst- niet de minste componisten. Tegen de achtergrond van zacht tinkelend slagwerk,
rake kleine fluitmelodieen en een met veel gevoel voor klank gemaakte tape klinken prima werkende melodische gestes voor de sopraan. Het is minutieus geregisseerd muzirktheater dat helder en sfeervol de raadsels die Alice in Wonderland omgeven tot leven brengt.
Geen van de elementen is bijzonder of nieuw, maar de combinatie die Yurtsevich vond levert wel en een werkende voorstelling op, met fantasie in
de uitwerking en een muzikaal goed in elkaar zittende dramatische spanningsboog.
/ Roeland Hazendonk /
(English) ------
"Aliona Yurtsevich's Viaggio Interiore charmed me the most. It is an 'Alice in Wonderland'-inspired performance for soprano, percussion, harp,
two recorders and tape. The power of the piece lies not really in the notes, but rather in the accuracy with which Yurtsevich produced a piece
of music theatre that refers to Kagel and Berio; not the least important composers. Highly effective melodic gestures for the soprano sound
against a backdrop of softly tinkling percussion, striking small flute melodies, and a tape that testifies of a great sensibility for sound.
It is minutely directed music theatre that clearly and attractively brings the riddles that surround Alice in Wonderland to life. None of the elements are special or new, but the combination Yurtsevich found did result in an effective performance, imaginatively executed with a musically well-constructed dramatic curve.
/ Roeland Hazendonk /
NRC (Aug.30, 2010) (review of TOONZETTERS PRIJS'2010 concert)

(Dutch)

"Yurtsevich bedient zich in VIAGGIO INTERIORE van electronica, surroundgeluid en theatrale middelen om met slechts vijf musici een volstrekt
eigen, warm en herbergzaam universum te scheppen op basis van enkele tekstflarden uit Alice in Wonderland."

(English) ------

"For Viaggio Interiore, Yurtsevich employs electronics, surround sound and theatrical means. With only five musicians, she creates a completely
unique, warm and welcoming universe, based on fragments of text from 'Alice in Wonderland'."









LUISTER magazine / 2010
read more _____________ /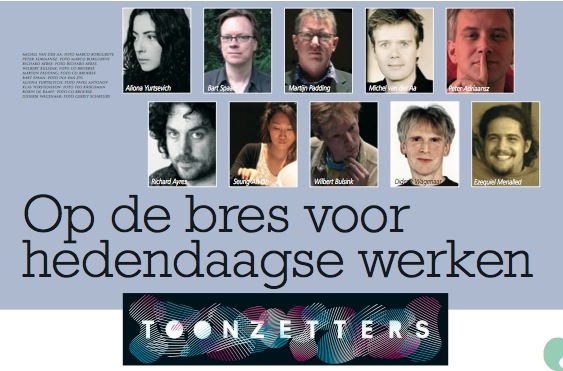 Muziek Centruum Nederland / 2010
read more _______________________________ /


Composer in highlight: Aliona Yurtsevich
http://www.muziekcentrumnederland.nl/nl/hedendaags/op-de-voorgrond/archief/aliona-yurtsevich/

MINIMUSICDRAMA'2009 / SIMC (ISCM), festival Incontemporanea / Ovada, IT read more ________ /


VIAGGIO INTERIORE [Awakening of Alice]

- wins
2nd price at MINIMUSICDRAMA'09






Radio-6 / VPRO, LUISTER salon / 2010 read more ___________ _______ /


http://cafesonore.radio6.nl/tag/aliona-yurtsevich/